Youtube as an SEO Technique for Video Search Engine Optimization
Video is the future. Stop. Youtube is owned by Google. Stop. Google needs to increase revenue growth. Stop. Google acquired DoubleClick. Stop. DoubleClick is all about display advertising, including video. Stop. Why are you stopping? SEO via Youtube is a fantastic opportunity! Start Youtubing and video advertising now!
A lot of time on SEO is spent figuring out our best keywords, then creating content, then weaving this content into our page tags. If we are lucky, we can zero in on those 'off page' factors like links and link strategies, to get people to link to us. That's really the meat and potatoes of white hat SEO. I love it, it works, and it is a lot of work.

But more and more, people are watching Youtube. Video. Beyond Youtube, there are sites like Hulu.com and many companies have either their own channel on Youtube, or perhaps their own longer videos on site. Videos are cool ways to engage with customers, and create web stickiness.

In addition, as part of the San Francisco Search Engine Optimization class I teach at AcademyX, I had reason to look in more detail at video and display advertising. That got me thinking:
What is the connection between Youtube and SEO?
SEO via Youtube
Search engine optimization, as you know, is all about getting to the top of Google. Let's put two and two together here. Or maybe more than two or two but hey this is a blog, so don't expect perfect content!
Video is growing as a destination on the Web.
Americans, no everyone worldwide, prefers video (easy) to reading (hard).
Video offers some innovative ways to engage with customers and potential customers.
Youtube is owned by Google, and losing money.
Google - now a public corporation - needs growth, and growth is going to come in display advertising.
Let's look at some seaches on Google, and see if Youtube videos pop up.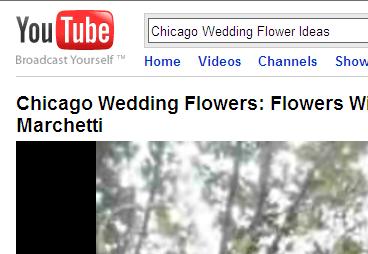 How about a search for Chicago Flower Wedding Ideas. Suppose I'm getting married in the windy city, and I need some flower ideas, perhaps a florist... Guess what, on 4 October 2009, the No. 1 returned site was this video on Chicago Wedding Flowers: Flowers With Feeling: Galleria Marchetti. Coincidence? Not exactly, look at the description set up about the video on Youtube:
Title: Chicago Wedding Flowers: Flowers With Feeling: Galleria Marchetti
Description: On location at Chicago special event venue Galleria Marchetti with Chicago florist Flowers With Feeling, Inc.
Or this search for MSP430, which is a microcontroller from Texas Instruments. This video MSP430 Low Power Demo using Grapes as a Power Source with description, "The video features creative power sources for MSP430 ultra-low power microcontrollers based applications." made page 1.
Youtube as a Search Engine Optimization Opportunity
So Youtube clearly is an SEO opportunity. If you have content suitable for Youtube, you can open an account (for free on Youtube), create videos, and when uploading them be sure to give them titles that contain your target keywords or keyphrases, and pack their descriptions (again) with those keywords! It's like creating specific landing pages just on Youtube. And, finally, use Youtube's tools to embed ads for your own website, as well as make sure that viewers can easily figure out which website created your videos.

I'm starting this myself, and while I'm too busy to do a great job of it, you can check out my Youtube Channel on Search Engine Optimization (SEO). Thoughts? Comments? Contact me!