Cupertino, California – January 24, 2014
Fremont, CA – January 6, 2013 – Jason McDonald (http://jasonmcdonald.org), a top Bay Area Social Media expert, is proud to announce he will be conducting a social media marketing workshop for the Cupertino Chamber of Commerce to be held January 24, 2014, in Cupertino, California. The social media workshop will help Cupertino and other San Francisco Bay Area businesses get up to speed on social media marketing. Specific topics will include marketing on Facebook, LinkedIn, Google+, Yelp, Twitter and other social media venues.
"Social media provides amazing free marketing opportunities for Bay Area small businesses," explained Dr. McDonald. "Cupertino businesses are fortunate that their Chamber of Commerce will be hosting this in-depth 'crash course' in social media marketing, and so I was very honored to be selected to conduct this small business social media marketing training in Cupertino."
More information can be found at – http://cupertino-chamber.org/irmevents.aspx#id=152&cid=233&wid=501
MORE ON CUPERTINO (BAY AREA) SOCIAL MEDIA TRAINING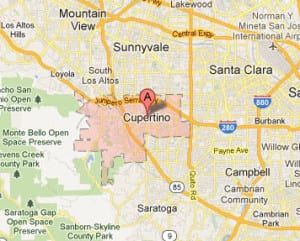 Marketing today is more difficult, and more fun, than ever. Gone are the days of just paying some money to the Yellow Pages, or advertising in the Local Newspaper, and calling it a day. These days small businesses need a strategic plan to engage customers online and a practical, day-to-day process of cultivating buzz across the Internet. Join the Cupertino Chamber of Commerce for a "crash course" on how to use social media marketing, for free, to market your businesses. The event will occur on January 24, 2014, from 8:30 am to 1:00 p.m. The event is open to non-members, and so businesses not just in Cupertino but in nearby cities such as San Jose, Sunnyvale, Santa Clara and Mountain View are all invited to attend.
ABOUT JASON MCDONALD – SEO / SOCIAL MEDIA CONSULTANT
Dr. Jason McDonald is a recognized SEO and Social Media expert consultant in based in the San Francisco Bay Area / Silicon Valley. Dr. McDonald received his Ph.D. from the University of California in 1992, and has worked at many hi-tech start up's in the San Francisco Bay Area. In addition, Dr. McDonald is Senior Editor at eg3.com, a web portal and email service covering hi-tech embedded systems on the Internet, founded in 1994. Recently, Dr. McDonald has begun teaching marketing, market research and Internet marketing at Bay Area institutions such as AcademyX and DeVry University.
Dr. McDonald can be found on the Internet at http://jasonmcdonald.org, a website focused on search engine marketing, SEO, and other Internet marketing issues with in-depth free information on SEO, Page Tags, Google Analytics, Metrics, Link building, Free SEO Tools and more. He can also be contacted by telephone at +1-702-879-4771 or email, [email protected].